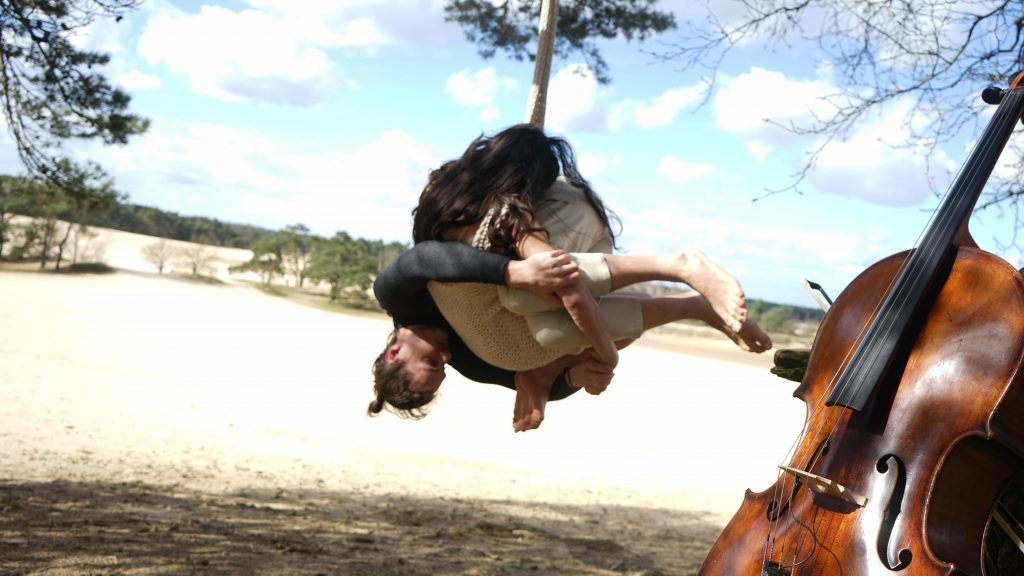 IF STEPS
Rogier and Mar are artists whose interpret their abstract art in a quite particular way. It has already been three year that they experiment together using their bodies and their instruments. Both together let themselves be surprised by the direction their research brings them. Being interested in how music infects movement. An interdisciplinary relation affecting each other, reciprocally. Throwing themselves to a transformation process based on the influence of one performing art to another. Now, through their connection on the stage some tension between ropes will emerge guiding the reciproque energy to the symbiosis where circus and music form a whole.
WHO WE ARE.
Mar Olivé
Mar is a Catalan artist who, after being in the youth circus school of l'Ateneu de 9 barris in Barcelona, graduates in aerial rope at the Academy for Circus and Performance Arts, ACaPA (Tilburg, NL). She knits different kind of structures, experimenting with several ropes and papers, as well as combining them with the hair-hanging technique.
She has been performing in festivals like Theater op de Markt (B), Axé Cirque (F), Oerol (NL), Mercateatre (Cat) and Festival Stripart (Cat). Next to the circus training, she knits, writes poems, climbs trees, makes homemade recycling paper notebooks and plays the violin.
Rogier Hornman
Rogier is a dutch cellist and creator of virtuosic, musical experiences. His performances are alive and honest, and don't leave any space for compensation or fake contrast. Rogier's musical performances contain the excitement of circus, the stylistic virtuosity of Frank Zappa and the volatility of John Cage.
As an improvising cellist, Rogier looks for the boundaries of the instrument, breaks those and fuses all styles to their common factor: sound. For his merging work as principal cellist in the Jong Metropole (conducted by Jules Buckley and Martin Fondse) Rogier won the Outstanding Talent Award, awarded by the Keep an Eye Foundation.
OUR RESEARCH LINE
A meeting point of music and circus. Where sound dances and notes climb ropes. Compass on the air and tenderness smell between dissonant sound and knitted ropes. A meeting point of ropes and bodies. Between bodies that lives inside ropes (floating in knitted ropes) and ropes that inhabit bodies (the cello strings.) Between tension and release of these, which at the same time composes vibrations that allows movements. Dialogs between the intention of who plays them and the interest of who listens to them.
The fragility and tenderness of bodies playing with limits, tensions and resistances of their instruments. Creating a place where knitted and pinched ropes meet each other to experiment the shapes of themselves and the affection of who habits, climbs and manipulates them, and letting themselves be affected at the same time.